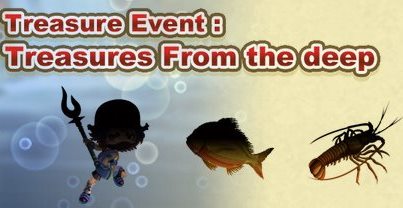 Clans:
Angora Clan (gained at 100 pts)
Equipment (Weapon: Lunar Corona, Armor: Angora Topper, Tool: Angora Belt)
Suckerpunch Clan (gained at 1000 pts)
Equipment (Weapon: Brazen Beak, Armor: Suckerpunch helm, Tool: Fisti Cuffs)


Treasure sets: All three sets look the same except with different colorations.
Tasty Whittles: 5 treasures
Sard Seafood: 5 treasures
Golden Catch: 5 treasures
____
Rank Rewards
You'll Get any of the following quilities from the Suckerpunch clangear:
(Ranking - Quantity: Weapon/Armor/Accessory - Quality)
1 - 4/4/4 - Gold
2~3 - 3/4/4 - Gold
4~10 - 3/3/3 - Gold
11~20 - 3(Gold)/6(Silver)/3(Gold)
21~50 - 6(Silver)/5(Silver)/3(Gold)
51~100 - 4/4/4 - Silver
101~300 - 3(Silver)/5(Bronze)/3(Silver)
301~500 - 2(Silver)/4(Bronze)/4(Bronze)
501~1000 - 4/4/4 - Bronze
1001~2000 - 3/2/2 - Bronze
2001~5000 - 2/2/2 - Bronze
5001~10000 - 1/1/1 - Bronze
10001~20000 - 1/0/0 - Bronze
1~100000 - 1 Summoninig Bell
____
Tips & Tricks
The last couple treasures in a series are usually the hardest to get. Hold off on using those battles to get a treasure until you are close to leveling, or can complete the series by battleling (preferably) then your moves will be more likely to get you treasure again at the start of a new series.
While on missions searching for event treasure, try going to a diferent mission after you find a black chest. For example if your in 14-1, spam till you find an event treasure, then go to 14-2, spam for treasure and switch to 14-3 or back to 14-1. This method seems to accumulate far more event treasure rather than just staying in the same mission.
Ad blocker interference detected!
Wikia is a free-to-use site that makes money from advertising. We have a modified experience for viewers using ad blockers

Wikia is not accessible if you've made further modifications. Remove the custom ad blocker rule(s) and the page will load as expected.