The first treasure set in the Treasures from the Deep event.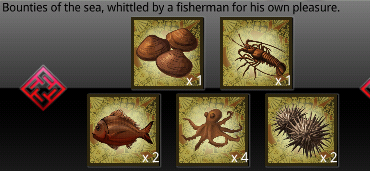 Bounties of the sea, whittled by a fisherman for his own pleasure.
Pieces of Treasure
Whittled Clam
Known as beach chestnut in some parts of the world, the humble clam becomes a wood object of simple yet striking charm.
Whittled prawn
Red as a lantern and as welcome a sight, the plump gloss of this wood item has remained undimmed through the ages.
Whittled Sea Bream
This carving once stood in for the real thing at a noble celebration after a kitchen accident--and saved a cook's like.
Whittled Octopus
A portrait in wood of a man-eating cephalopod known as the Eight-Clawed Demon, down whose maw many a diver were lost.
Whittled Sea Urchin
Thorny without, tender beyond imagining within. This was the carver's last work before he was lost at sea.
Links to Other Pages
Ad blocker interference detected!
Wikia is a free-to-use site that makes money from advertising. We have a modified experience for viewers using ad blockers

Wikia is not accessible if you've made further modifications. Remove the custom ad blocker rule(s) and the page will load as expected.