Night of the Serpent is the arena event that started on May 7, 2012 and lasted until May 16, 2012 at 16:59 PDT.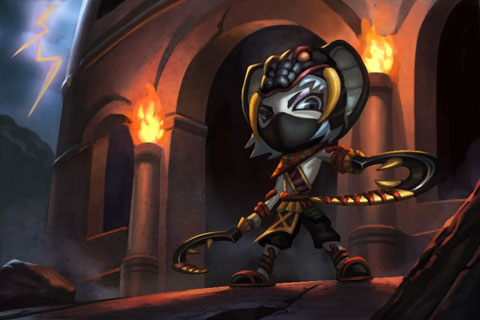 Storyline
Obtainable Clans
Blueblood Band


Floor Rush
During this event there was no floor rush.
Floor Clearance Prizes
No Data available.
Elemental Event Gear
No Data available.
Tips & Tricks
Be sure to autoslot your element gears to get the best possible damage for a certain tower.

When you opt to send a health pack to someone else instead of using it, you may have anassist available. That means that the next time you are in a battle and your health gets pretty low, you will recieve an assist from the person that you sent the health pack to. However, that person has to defeat their opponent to get the medic pack before the assist is available.
You can beat a grand thief easily with a double up, or more difficultly with a frenzy + attack aid, or frenzy + assist. I have done this with level 4 non-event gear several times.
When you are battleing your way through a floor and decide to switch to a different tower, you will loose reps.
Clearing a floor or leveling up will restore your health.
During the Elemental GEAR Challenge you can only get the Elemental Gear in the corresponding Element Tower.
When you are about to do a health pack battle, Event Edge doesn't apply. Might as well go to the home screen and uncheck event edge and equip your best gear.
Make sure you check how many reps you get from each battle. Occaisionally there will be an especially high rep battle against a player with much more reps. The converse is also true. Don't lose to a rep lep (compared to your current reps) person or you will lose a huge chunk of reps.If u use any powerups like superduper, they dont last long. Only use it when needed.
Don't flee or close the app when using a supa dupa you will lose all or some of the charges on it.
Ad blocker interference detected!
Wikia is a free-to-use site that makes money from advertising. We have a modified experience for viewers using ad blockers

Wikia is not accessible if you've made further modifications. Remove the custom ad blocker rule(s) and the page will load as expected.