The Pecking Order is the fifth path in the Ninja Royale World 2 map.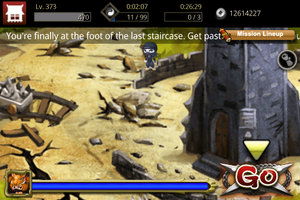 Missions
There are 7 mission in the path.
Handcar Race
The enemy is smuggling people and supplies in handcars. Destroy the handcars and free the children!
- 3 energy
+ 291-309 zeny
Tower Run
The front door is too well-guarded. Sneak around the back, and find a way in!
- 3 energy
+ 299-317 zeny
Save the Children!
Childred are enslaved inside the tower. Rescue them!
- 3 energy
+ 307-326 zeny
Tower Takedown
Bust up the tower and put some fear into the enemy. Destroy the bows and arrows, clip their wings!
- 3 energy
+ 315-334 zeny
Hold the Line
The enemy knows what you're up to. Dodge their attacks and head for the top floor.
- 3 energy
+ 323-343 zeny
Doskoy's Surprise Attack
Doskoy is using his massive strength to hurl boulders. One hit, and you're a goner!
- 3 energy
+ 341-353 zeny
Fight to the Top
You're finally at the foot of the last staircase. Get past the phalanx and rush to the top!
- 3 energy
+ 350-366 zeny
Boss
Doskoy is the boss for this path.
Treasure