Healing Hot Spring is the fourth path in the Ninja Royale World 2 map.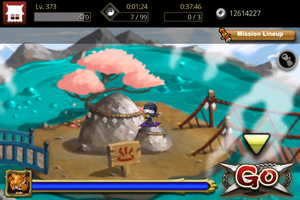 Missions
There are 7 mission in this path.
Aw, Nuts
On your way to the inn town, someone starts hurling chestnuts at you. Defend yourself!
- 3 energy
+ 257-272 zeny
Catch Your Lunch
You can't win on an empty stomach. Time for a little fishing! Looks like someone is getting in the way.
- 3 energy
+ 264-280 zeny
Sinister Souvenirs
At the inn town, the give shop owner needs your help. Apparently someone's been giving him grief.
- 3 energy
+ 271-288 zeny
Hey, Crybaby
Someone's stolen a little girl's beloved doll. Get it back, and watch how fast it moves!
- 3 energy
+ 278-295 zeny
I See You!
Seems a ninja called Leon was to blame. Now his minions are also on a tear. Find the real Leon!
- 3 energy
+ 285-303 zeny
Moai Strikes
Leon's minions have turned into moais! Bash them as they pop up, and put them down!
- 3 energy
+ 295-314 zeny
Food Raid!
Leon has stolen all the food supplies, and the villagers are hungry. This time he's gone too far! Get the supplies back!
- 3 energy
+ 304-328 zeny
Boss
Leon is the boss of this path.
Treasure