Bright yet sophisticated, these are garments for seasoned warriors.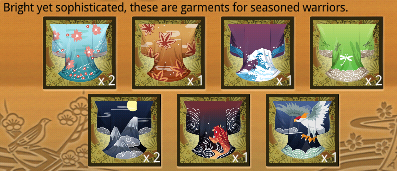 Pieces of Treasure
Flower Storm Kimono
The kimono of a tea shop girl, the darling of the town. Cherries are the breath of spring, the sign of renewal.
Autumn Air Kimono
The kimono of a poet. The leaves of fall stain the sky and paint the water, setting the dreams of bards afire.
White Squall Kimono
The kimono of a lone warrior. In the vastness of the seas, we see something of his solitude and turmoil.
Tranquility Kimono
The kimono of a princess of an untroubled land. The dragonlies cavort in a sky never rent by arrows or gunfire.
Moonlight Kimono
The kimono of an eastern queen. An unknown mountain murmurs its tale to fickle moon.
Red Koi Kimono
The kimono of merchant. In this classic mtif, a carps swims against the current, a symbol of strength in adversity.
Great Bird Kimono
The kimono of a globetrotting performer. He lived as a free as a bird, delighting one audience after another.
Collection Reward
Stealth Greaves
Links to Other Pages
Ad blocker interference detected!
Wikia is a free-to-use site that makes money from advertising. We have a modified experience for viewers using ad blockers

Wikia is not accessible if you've made further modifications. Remove the custom ad blocker rule(s) and the page will load as expected.