Their brillance is a lens for the wearer's own beauty, for better or worse.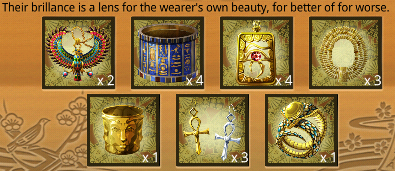 Pieces of Treasure
Collar of Entraty
A piece of jewellery that supposedly protects the wearer in battle, then disintegrates. Obviously nobody has every used it.
Tefnut's Wristlet
A legendary bracelet infused with the power of a goddess, said to call in the rain clouds even on the clearest day when the engraved spell is read.
Eye of Dauphine
One of the treasured wonders, the center diamond is said to be as beautiful as the eyes of a princess.
Golden Shells
A necklace of shells, reproduced in solid gold. The weight makes it a piece for showing, not wearing.
Proof of Blood
An especially precious bracelet that only patricians were allowed to wear. Used as a proof of identity, to gain access to castles and keeps.
Seal of Love
These were presented by the king to his queen. Legend has it that a couple who wears these can live happily every after.
Ring of Safe Passage
A fascinating ring with the power to ward off scorpions and cobras. A must-have for desert wanderers.
Collection Reward
Cobra Ring
Links to Other Pages
Ad blocker interference detected!
Wikia is a free-to-use site that makes money from advertising. We have a modified experience for viewers using ad blockers

Wikia is not accessible if you've made further modifications. Remove the custom ad blocker rule(s) and the page will load as expected.