The third treasure set in the Treasures from the Deep event.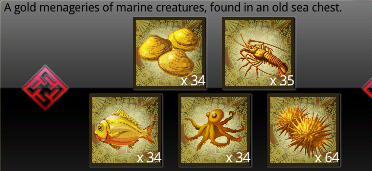 A gold menageries of marine creatures, found in an old sea chest.
Pieces of Treasure
Gold Clam
An engraving on the clam provides the only tantalizing clue to the origin of the hoard: "An Amusement for Duchsse de Rie"
Gold Prawn
The gold prawn was offered to the demon-lord of Cerro Azul, and is credited with calming the volcano for 220 years.
Gold Sea Bream
For years until its value was discovered, this gold fish inexplucably adorned the store sign of a Scottish pub, Ben & Blair.
Gold Octopus
Purchased for an outrageous sum by the caudillo of Ca, the object was used as a paperweight for his meticulous reports.
Gold Sea Urchin
Beautiful to behold, the 24-karat wonder will slip its heavy spikes right into any hand unwise enough to cradle it.
Links to Other Pages
Ad blocker interference detected!
Wikia is a free-to-use site that makes money from advertising. We have a modified experience for viewers using ad blockers

Wikia is not accessible if you've made further modifications. Remove the custom ad blocker rule(s) and the page will load as expected.