The Treasure Spot is the fifth path in the Ninja Royale World 3 map.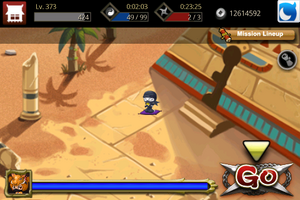 Missions
There are 7 missions on this path.
It's Raining Rocks
The enemy is on the pyramid, pelting you with stone! Dodge the missiles and make your way forward.
- 3
+ 469-488 zeny
Can I Come In?
So many entrances, but only one way in. Focus you mind and distinguish the real from the fake.
- 3
+ 477-497 zeny
Walled In
The entrance to the pyramid has been sealed by a huge rock! Use your ninja powers to break your way in.
- 3
+ 485-505 zeny
The Labrinthe
Inside is a maze of hallways. Carefully make your way into the pyramid, without getting lost!
- 3 energy
+ 493-513 zeny
Road Ruses
Enemy traps bar your way, and some of them are pretty dangerous. Careful disarming them!
- 3 energy
+ 501-522 zeny
Preemptive Defense
Looks like the minions know we're here, and they're on the move. The boss is nearby. Defeat the minions in one fell swoop.
- 3 energy
+ 509-530 zeny
Cursed, Of Course
A hex awaits on the stairs, ready to paralyze interlopers. Use your ninja powers to conquers the treasure's scourge.
- 3 energy
+ 517-538 zeny
Boss
Clea is the boss of this path
Treasure
Ad blocker interference detected!
Wikia is a free-to-use site that makes money from advertising. We have a modified experience for viewers using ad blockers

Wikia is not accessible if you've made further modifications. Remove the custom ad blocker rule(s) and the page will load as expected.