The Armor clan is a clan that was available during the Howlback event,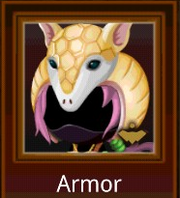 requiring to clear the following goals:
Common suit earned by clearing floor 5 of first tower
Rare suit earned by clearing floor 10 of first tower
Epic suit earned by clearing floor 15 of first tower
Clan Description
This clan resembles an armadillo and is of Earth Lineage. It has a higher defense then offense by 3%. It is also Tankroll.
Clan Suits and Titles
The Clan has 3 different suits to be worn. Mastery is earned by upgrading clan jutsu through the use of Jewels
Common Suit
Rare Suit
Epic Suit 
Clan Gear
Weapon

Armor
Tool
Ad blocker interference detected!
Wikia is a free-to-use site that makes money from advertising. We have a modified experience for viewers using ad blockers

Wikia is not accessible if you've made further modifications. Remove the custom ad blocker rule(s) and the page will load as expected.